Nicole Mandall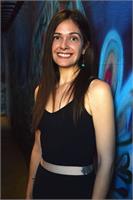 I got into yoga about five years ago in Ethiopia. It was an escape from the problems I saw everyday and stress of living in a small African village. Yoga gave me the confidence to face the issues surrounding me and eventually a way to bond with the people around me. Yoga was a universal language that bridged the communication barrier. My passion for sharing yoga has grown ever since. I have mostly taught yoga with youth and adolescents who are HIV+ as a tool to manage anxiety and increase self -esteem. Also doing fun and creative yoga classes with children. I received my 200ryt in India focusing mostly on traditional breath, Hatha, and a little flow! I just moved to Las Cruces to begin my Masters of Public Health and hope to continue sharing and learning about the healing spirit of yoga with the communities here!
Nicole Mandall instructs the following:
All-level class. Slower-moving sequences with emphasis on form and developing strength and stability in the body, while connecting to the breath. Heat: low to moderate (78-85 degrees)




Fostering cooperation and compassion—instead of opposition—is a great gift to give our children. Children benefit enormously from yoga. Physically, it enhances their flexibility, strength, coordination, and body awareness, which helps them develop correct functional movement and maintain athleticisim and flexibility throughout their lives. In addition, their concentration and sense of calmness and relaxation improves. This hour long yoga class for kids presents yoga in a fun, lighthearted fashion, giving the kids freedom to explore yoga practice and what their body can do in a safe, guided environment!