Amylynn Salopek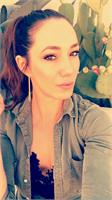 Amy Lynn Salopek, is a true Las Cruces native. Growing up Amylynn was always an active and energetic person. She originally becoming interested in Yoga for the killer workout and to loosen tight muscles from years weight training, MMA, and running. Slowly, through years of practice, Amylynn realized how much more she received from her practice besides just the physical benefits. As her practice deepened, Amylynn found that other aspects of her life were being strengthened as well. Yoga began creating new strength in her emotionally, spiritually, and of course, physically. It her dream to share the beautiful gift of Yoga through teaching others the practice.
Amylynn Salopek instructs the following:
Creative high energy fusion of bikram and vinyasa practiced in high humidity and heat. Bring towel and water. Get ready to sweat and challenge your mind!!! ALL LEVEL HEAT: HIGH (95F+) HUMIDITY: ~40%




Gentle yoga targeting the deep connective tissue and fascia and opening the meridian points to regulate the energy flow of the body. Highly recommended for beginners. ALL LEVEL. NON-HEATED




Vinyasa Yoga connects breath with movement between yoga poses, building strength and flexibility. This juicy, non-heated class will offer modifications for beginners and advanced options for seasoned practitioners. ALL-LEVEL, NONHEATED




Deep Release Class focused on lengthening and releasing tension in the fascia, ligaments, and connective tissue. Combines slower flow with juicy longer holds. ALL LEVELS.