Meg Long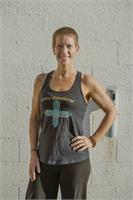 Meg Long began her 13 + years of yoga practice while serving as a Peace Corps volunteer in Kenya. She found the meditative aspect of yoga helped to maintain her mental well-being while working with high risk populations in extremely stressful environments. Throughout her 14 years of successful work in Social Services, she has found yoga to be a strong foundation for staying motivated and determined. Her love of helping others through difficult times led to a transition into teaching, initially through trauma informed yoga for community members recovering from alcohol and drug addiction. She found not only does the meditative aspect of yoga help with emotion healing, but also with physical healing. Though the Hot 26 series, Meg was able to heal her torn rotator cuff without the aid surgery. She also works for the Wellness, Alcohol, and Violence Education program at NMSU and teaches several Public Health courses.
PS She loves the heat, hope you do to!
Meg Long instructs the following:
All-level class. Slower-moving sequences with emphasis on form and developing strength and stability in the body, while connecting to the breath. Heat: low to moderate (78-85 degrees)




Gentle yoga targeting the deep connective tissue and fascia and opening the meridian points to regulate the energy flow of the body. Highly recommended for beginners. ALL LEVEL. NON-HEATED




Meditation can be used to reduce stress, control anxiety, alleviate pain, promote emotional health, enhance self-awareness, lengthen attention span, and improve sleep.

November 11, 2018 from 1-230 PM, Meg Long and Abby Nayra are leading a beginner's meditation workshop at Indigo Yoga Mesilla. We will practice a variety of meditation techniques, allowing the participants to find styles that are accessible and enjoyable to them.

The workshop will include slow deep stretching and the soothing sounds of Abby Nayra and her harp.